Some Twitter users are calling for Turning Red's Mei and Miriam to be a couple, despite the plot of the latest Pixar animated film revolving around just how boy crazy these young teens are.
Because of course they are. It's Twitter. And new animation is catnip for 'shippers' who frequent the social media site.
"Pixar was too lame to make them girlfriends," says user @mikangelical.
Whether or not the original poster was actually serious about shipping the two young teens or not, the original tweet has gotten a lot of attention. Currently it sits at around 93,000 likes and climbing.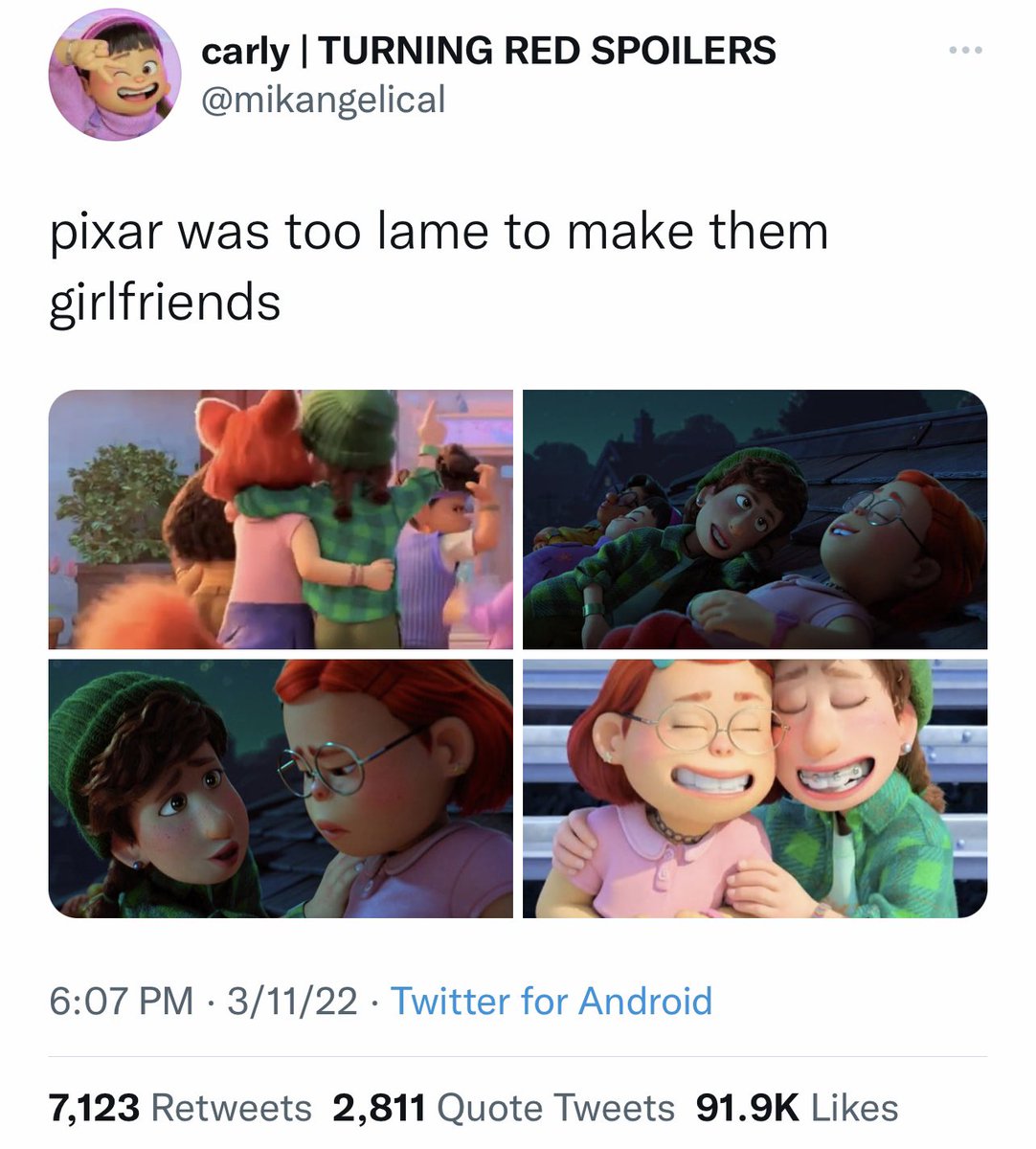 While Pixar employees have blasted Disney's support of sponsors of the 'Don't Say Gay' bill and have claimed that the studio has censored LGBTQ themes in movies, it's highly unlikely that this particular pairing was ever intended to be more than friends.
The plot of Turning Red focuses heavily on Mei and her circle of friends fawning over pretty boys in the boy band 4*Town, and Mei has an awkward situation early on in the movie when her mother catches her doodling the handsome convenience store clerk Devon. Again, all four girls have the hots for this boy as well, so a romance between Mei and Miriam is… probably not going to happen.
Why does every relationship have to be romantic? What happened to just being friends?

— Big Cat (@xBigCatx) March 12, 2022
That's not to say that there wasn't any LGBTQ representation in Turning Red. It could be deduced that the girls' rival Tyler is just as into the boys in the band as the girls are.
Every Cartoon Character Gets Shipped… Eventually.
Shipping cartoon characters is nothing new. In fact, pretty much every cartoon character in every recent animated series or movie tends to build a following of shippers at some point. Some more recent series like Cartoon Network's Steven Universe and Netflix's She-Ra and the Princesses of Power seem to lean into shipping culture. Even Disney's own series The Owl House has cultivated a large following of shippers.
Last year, there were calls for the leads of Pixar's Luca to be canonically gay. However, the film's director Enrico Casarosa addressed the situation and said that no, they're not a couple.
Shipping is innocuous if done all in good fun. However, some shippers take things too far and actually threaten physical harm against perceived rivals, dissenters and even people who work on the productions.
And just because a ship is popular with a fandom, doesn't mean the studio will agree… for a variety of reasons. Frozen fans are still waiting for Elsa to get a girlfriend, and others are holding out hope she'll wind up with Spider-Man.
Turning Red is now playing on Disney+. You can read Mike Phalin's review here.
Pirates & Princesses (PNP) is an independent, opinionated fan-powered news blog that covers Disney and Universal Theme Parks, Themed Entertainment and related Pop Culture from a consumer's point of view. Opinions expressed by our contributors do not necessarily reflect the views of PNP, its editors, affiliates, sponsors or advertisers. PNP is an unofficial news source and has no connection to The Walt Disney Company, NBCUniversal or any other company that we may cover.